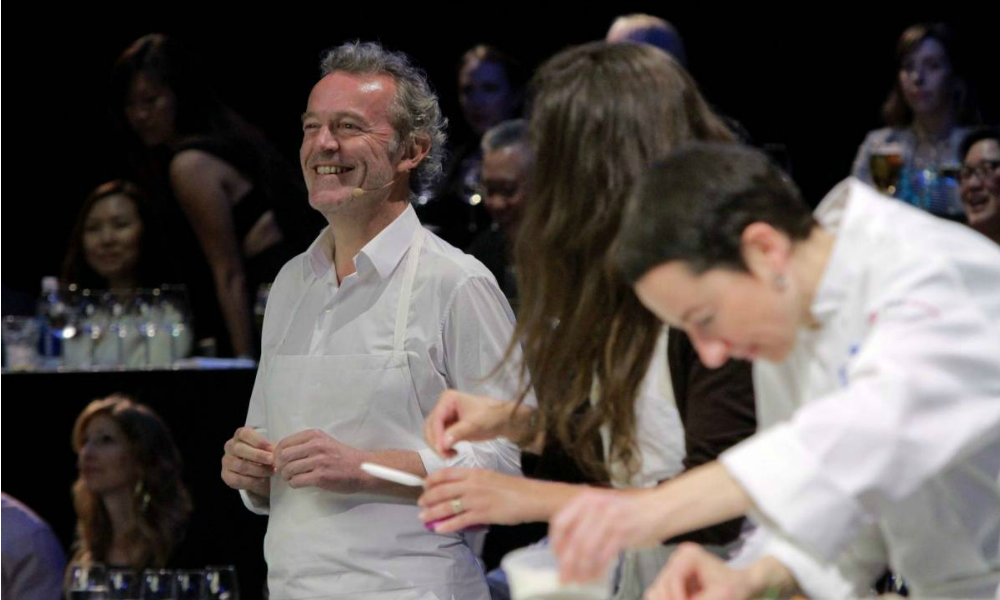 Il caldo estivo di questi giorni ci fa volare con la mente e pensare ai viaggi a nuove esperienze e provare nuovi sapori, ma dove si va a cena quando si è in vacanza? Niente paura, per non restare a stomaco vuoto e accontentarsi di mangiare e non gustare pronta una classifica per non sbagliare! Ecco un tour enogastronomico per una vacanza all'insegna della tovaglia! Allora forza, vi presentiamo una classifica da leggere tutta d'un fiato, lasciatevi incuriosire e poi lanciatevi a fare il biglietto dell'aereo e volate verso una nuova entusiasmante avventura. Se volete restare in territorio italiano avrete ben 18 ristoranti da scoprire, ebbene si, quasi il 20% dei top 100 restaurants sono in Italia!
Esperti, giornalisti gastronomici, foodies e i più accreditati blogger tutti insieme per Opinionated About Dining. OPD è l'unico sondaggio nel settore food basato su fattori nel suo sistema di rating. I risultati del 2016 sono frutto di oltre 160.000 recensioni, contribuito di oltre 4.500 esperti che hanno indagato, provato, scoperto, assaporato le cucine di tutti i ristoranti presenti nelle classifiche.
Nella classifica 2017 dei migliori ristoranti in Europa al primo posto si riconferma Parigi L'Arpège di Alain Passard, al secondo posto in Svizzera a Fürstenau con grande salto da metà classifica dello scorso anno si posiziona Schloss Schauenstein di Andreas Caminada con 3 stelle Michelin. Andiamo in nord Europa precisamante a Japer Järpen in Svezia per scoprire Favike di Magnus Nilsson con la sua cucina dai sapori nord europei.
LA CLASSIFICA
a cura di Opinionated About Dining (ODP)
1 L'Arpège Alain Passard Contemporary French Paris, France

2 Schloss Schauenstein Andreas Caminada Modern European Fürstenau, Switzerland
3 Faviken Magnus Nilsson New Nordic Järpen, Sweden

4 Azurmendi Eneko Atxa Progressive Basque Larrabetzu, Spain
5 De Librije Jonnie Boer New Dutch Zwolle, Netherlands
6 Etxebarri Victor Arguinzoniz Progressive Asador Axpe, Spain
7 Kadeau Bornholm (meals on the island of Bornholm) Nikolai Nørregaard New Nordic Bornholm, Denmark
8 Restaurant Quique Dacosta Quique Dacosta Progressive Spanish Dénia, Spain
9 Le Calandre Massimiliano Alajmo Contemporary Italian Rubano, Italy
10 Osteria Francescana Massimo Bottura Progressive Italian Modena, Italy
11 Astrance Pascal Barbot Contemporary French Paris, France
12 La Marine Alexander Couillon Contemporary French-Seafood Noirmoutier, France
13 Daniel Berlin Daniel Berlin New Nordic Skåne Tranås, Sweden
14 Sant Pau Carme Ruscalleda Contemporary Catalan Sant Pol de Mar, Spain
15 El Celler de Can Roca Joan Roca Progressive Spanish Girona, Spain
16 Vendôme Joachim Wissler Modern European Bergisch Gladbach, Germany
17 Schloss Berg Christian Bau French-German Perl, Germany
18 Flocons de Sel Emmanuel Renaut Contemporary French Megève, France
19 Fat Duck (after reopening) Heston Blumenthal Molecular Cuisine Bray, United Kingdom
20 Geranium Rasmus Kofoed New Nordic Copenhagen, Denmark
21 Gaestehaus Klaus Erfort Klaus Erfort Contemporary French Saarbrücken, Germany
22 La Vie Thomas Bühner Modern European Osnabrück, Germany
23 Sa.Qua.Na Alexander Bourdas Contemporary French-Seafood Honfleur, France
24 Hertog Jan Gert De Mangeleer Modern European Zedelgem, Belgium
25 Pierre Gagnaire Pierre Gagnaire Contemporary French Paris, France
26 Maaemo Esben Holmboe Bang New Nordic Oslo, Norway
27 Diverxo David Muñoz Progressive Spanish Madrid, Spain
28 AOC Søren Selin New Nordic Copenhagen, Denmark
29 Disfrutar Oriol Castro & Eduard Xatruch Progressive-Molecular Barcelona, Spain
30 Piazza Duomo Enrico Crippa Progressive Italian Alba, Italy
31 L'Air du Temps Sang-Hoon Degeimbre Contemporary French-Asian Éghezée, Belgium
32 Tim Raue Tim Raue Chinese Berlin, Germany
33 Aqua Sven Elverfeld Contemporary German Wolfsburg, Germany
34 Seta Antonio Guida Contemporary Italian-French Milan, Italy
35 Henne Kirkeby Kro Paul Cunningham New Nordic Henne, Denmark
36 Aponiente Ángel León Progressive Spanish-Seafood El Puerto Sta María, Spain
37 Tickets Albert Adrià Tapas-Molecular Barcelona, Spain
38 Mugaritz Andoni Luis Aduriz Progressive Spanish-Molecular Errenteria, Spain
39 Mirazur Mauro Colagreco ContemporaryFrenc Menton, France
40 Bord'eau Richard van Oostenbrugge Contemporary French Amsterdam, Netherlands
41 De Leest Jacob Jan Boerma Rest of Netherlands Vaassen, Netherlands
42 Reale Niko Romito Progressive Italian Castel di Sangro, Italy
43 Arzak Elena Arzak New Basque San Sebastian, Spain
44 Ca l'Enric Jordi & Isabel Juncá Formal Dining Olot, Spain
45 Lume Luigi Taglienti Progressive Italian Milan, Italy
46 Martín Berasategui Martín Berasategui Molecular Cuisine Lasarte, Spain
47 Steirereck Heinz Reitbauer Contemporary Austrian Vienna, Austria
48 The Ledbury Brett Graham Modern British London, United Kingdom
49 Ledoyen (meals after Sept 1, 2014) Yanick Alléno Contemporary French Paris, France
50 La Vague d'Or Arnaud Donckele Contemporary French St. Tropez, France
51 Passage 53 Shinichi Sato Contemporary French Paris, France
52 Kadeau Nikolai Nørregaard New Nordic Copenhagen, Denmark
53 David Toutain David Toutain Contemporary French Paris, France
54 L'Assiette Champenoise Arnaud Lallement Contemporary French Reims, France
55 The Jane Sergio Herman & Nick Bril Modern European Antwerp, Belgium
56 Relae Christian Puglisi New Nordic Copenhagen, Denmark
57 Torre del Saracino Gennaro Esposito Contemporary Italian-Neapolitan Vico Equense, Italy
58 Kitchen Table at Bubbledogs James Knappett Modern British London, United Kingdom
59 Oaxen Magnus Ek New Nordic Stockholm, Sweden
60 Hedone Mikael Jonsson Contemporary French London, United Kingdom
61 Studio Torsten Vildgaard New Nordic Copenhagen, Denmark
62 Uliassi Mauro Uliassi Contemporary Italian-Seafood Senilgallia, Italy
63 Taubenkobel Alain Weissgerber Contemporary Austrian-French Schützen, Austria
64 Le Grenouillère Alexander Gauthier Progressive French La Madelaine-sous-Montreuil, France
65 Clove Club Isaac McHale Modern British London, United Kingdom
66 Pure C Sergio Herman & Syrco Baker New Dutch Cadzand, Netherlands
67 Villa Crespi Antonino Cannavacciuolo Contemporary Italian Orta San Giulio, Italy
68 Table by Kevin Fehling, The Kevin Fehling Modern European Hamburg, Germany
69 Esperanto Sayan Isaksson New Nordic-Asian Stockholm, Sweden
70 Alchemist Rasmus Munk Molecular Cuisine Copenhagen, Denmark
71 The Sportsman Stephen Harris Modern British Seasalter, United Kingdom
72 La Madia Pino Cuttaia Progressive Italian Licata, Italy
73 Bon-Bon Christophe Hardiquest Contemporary French Brussels, Belgium
74 L'Enclume Simon Rogan Modern British Cartmel, United Kingdom
75 Jin Takuya Watanabe Sushi Paris, France
76 Lido 84 Riccardo Camanini Progressive Italian Gardone Riviera, Italy
77 Pages Ryuji Teshima Contemporary French Paris, France
78 Koks Poul Andrias Ziska New Nordic-Seafood Faroe Islands
79 Combal.zero Davide Scabin Progressive Italian Rivoli, Italy
80 Araki Mitsuhiro Araki Sushi London, United Kingdom
81 Agli Amici a Udine dal 1887 Emanuele Scarello Contemporary Italian Udine, Italy
82 Neige d'Eté Hideki Nishi Contemporary French Paris, France
83 Sushi Tetsu Toru Takahashi Sushi London, United Kingdom
84 HKK Tong Chee Hwee, Chinese London, United Kingdom
85 Konstantin Filippou Konstantin Filippou Contemporary Austrian Vienna, Austria
86 A.T. Atsushi Tanaka Contemporary French Paris, France
87 Pakta Jorge Muñoz Nikkei Cuisine Barcelona, Spain
88 Enrico Bartolini Enrico Bartolini Contemporary Italian Milan, Italy
89 La Peca Nicola Portinari Contemporary Italian Lonigo, Italy
90 Dinner by Heston Blumenthal Ashley Palmer-Watts Modern British London, United Kingdom
91 Überfahrt Christian Jürgens Modern European Rottach-Egern, Germany
92 Table (Bruno Verjus) Bruno Verjus Contemporary French Paris, France
93 Restaurant Jean Sulpice Jean Sulpice Contemporary French Val Thorens, France
94 Güeyu Mar Abel Álvarez Progressive Seafood Asador Ribadesella, Spain
95 Souvenir Vilhjalmur Sigurdarson Modern European Ypres, Belgium
96 Yam Tcha Adeline Grattard Chinese Paris, France
97 Àbac Jordi Cruz Progressive Spanish Barcelona, Spain
98 Cinc Sentits Jordi Artal Contemporary Spanish Barcelona, Spain
99 Lorenz Adlon Hendrik Otto Contemporary French Berlin, Germany
100 Duomo Ciccio Sultano Progressive Italian Ragusa, Italy
Il primo ristorante italiano lo troviamo in nona posizione ed è i provincia di Padova a Rubano, Massimiliano Alajmo con Le Calandre. Uno stile ineguagliabile, la punta di diamante italiana nel settore un nome e un'esperienza sensoriale.
Photo Credits Pinterest